Aiming for Gold
by Alison Fraser (Chadzombe kennel, Scotland)

"This article first appeared in the Rhodesian Ridgeback Quarterly - Fall 2005 and is posted on this site with authors permission."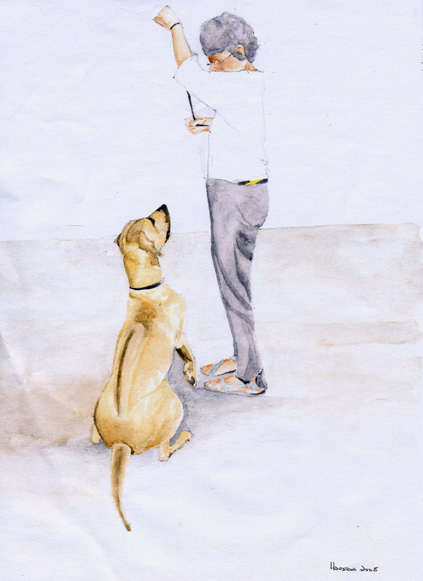 Being aware of breed-specific legislation and insurance discrimination arising across the Atlantic and elsewhere, I felt it was up to me to practise what I preached regarding training Ridgebacks in today's society.
I would aim for Gold Good Citizen with my two-year-old Kamba Anatulinda's Fingo (Nor. imp) who came to me at nine months from Norway on the Pet Passport. Eagerly awaiting the arrival of the flight from Oslo to Amsterdam, I observed his breeder, John-Sigve Berg, walking through the passenger arrival area with a young Ridgeback confidently accompanying him. To me, Fingo was of sound mind. It must have been very difficult for John and Asbjørg parting with this young dog they had nurtured for me. Farewells were made and the next stage of the journey was faced. There were difficulties loading the huge crate into the cargo hold. Viewing this from the boarding area was worrying, to say the least. It was carefully allowed to slide down the ramp, and a successful attempt was made at a wider hatch. Collecting Fingo at the Edinburgh Airport cargo terminal after midnight was a relief. He was quite at home on Scottish soil and easy to communicate with. It proved that voice control is meaningful. There was no doubt: this was a very bright dog that would be ideal for performance activities. The only problem was, I was in my senior years.
Some months passed and when circumstances permitted I decided to aim for Gold! Trying to find a club which taught up to Gold level was difficult. The Kennel Club criteria for training Good Citizen requires training year-round. Southwest Scotland is a predominantly agricultural area. Memberships fall in numbers from spring to autumn and costs of hiring halls are expensive. For a considerable time I had noticed an advertisement on our vet's notice board. In the past, during my fairly long life involved with breeding and training Ridgeback, there have been some training methods I found questionable, to say the least. Would I inquire? Well. I did. It has been the best move I ever made.
It took perseverance once my mind was set. The phone numbers I rang had no reply and no answering machine, so I went back to the vet's clinic to find out the date, time, and place details. There wasn't much time to spare on this day in April, 2004. The classes were that evening at 7:30pm. I checked my road atlas and plotted my route along 25 miles of B roads. The distance would take approximately three quarters of an hour, which required leaving my other four Ridgebacks exercised and settled before leaving home.
The daylight time was short and it was dark when I arrived at the small, stone cottages of the village of Brydekirk to search for the village hall where the classes were advertised. Once there, there was no sign of activity. Observing someone arriving in a car, I approached them to make inquiries. After phoning some friends in the village, the information was that the training classes had moved to Cummertrees, seven miles away. At this point, the darkness was sapping my enthusiasm, but having come this far, it was best to continue. A 60-mile round-trip!
Arriving at Cummertrees Village Hall on the Solway, the parking lot was packed, which indicated a good sign. Leaving the big brown car in the car, I cautiously knocked on the door to the hall, entering the sight of sixteen dogs of all shapes and sizes, under instruction. Speaking to the assistant trainer, I was invited in. The class was put on hold, whilst the other dogs and handlers were instructed to down-stay and cautioned about the big dog entering. Fingo and I were placed in the centre of the ring to watch and listen whilst we all got used to each other. After awhile we joined the heeling exercise. That was the instruction and we have continued for eight months.
Fingo and I joined the Solway Dog Training Club which offered a hall that was safe for both dogs and owner. Each week the heavy rubber mats were rolled out, covering the complete floor space; there was enough space for the size of three classes offered in an evening. Our instructor in chief was tireless, supervising all dogs at all times. She gave us individual, adequate attention and ENCOURAGEMENT! All the dogs wore flat collars; some wore dogmatics until dog and owner worked in a controlled manner. There were no choke chains or check chains. Anyone using physical punishment was cautioned – if repeated, they would be asked to leave. There was a wide range of ages of handlers, each encouraging the other after classes. A very good atmosphere.
Each week, Fingo came to understand the routine preparations prior to the classes commencing at 7:30pm. As he advanced, he would take two classes in his stride before returning home late in the evening. On the day of classes a long walk in the hills of the Southern Uplands was essential for this high-energy dog. As I collected my dog training bag, liver cake and mobile phone, he knew this was his time. The 30-mile journey along beautiful old country roads passing through the Buchanan-Jardine estates, made the journey an added bonus.
At all levels, socialisation was the most important exercise for most of us. Fingo had never seen nor smelled puppy Border Terriers, Miniature Schnauzers, Staffies, rescue dogs, Springer Spaniels, Rottweilers, chocolate Labs, Newfoundlands, a hound dog that could have been a Ridgeless Ridgeback, and Flatcoated Retrievers. The coated breeds provided the most fascination. When our instructors felt we were progressing well with stay, sit, down, heel, come, and walking to heel on a loose lead without pulling, we were invited to participate in the bronze Good Citizen with the oral exam of responsibility and care.
At home during the week we would walk the pavements into Moffat (always carrying two poo bags) practicing heels, downstay, recall, meeting and chatting with people and their dogs. Fingo liked to feel special and was proud of himself when praised. He read the air, the secrets that animals leave for each other along the way. Meanwhile, I observed the progress at building sites, road works, and BT Engineers, looked in shop windows, and noticed the real estate advertisements.
After seven weeks, Fingo passed Bronze. Quite honestly, I was nervous. Our examiner was the dog warden. My imagination ran the gauntlet; I expected someone from Charles Dicken's time, but no, he was young, quiet and thoughtful. I'm told it is possible he was afraid of Fingo, this being the first Ridgeback he had met.
Our club is very social – after exams there is always a presentation of certificates, special treats for the dogs, and especially made rosettes by our trainer, followed by refreshments at a local pub. It's fun.
Originally the members were not ambitious, but with each success, most felt they could take the next challenge, and so aimed for Silver. The examined exercises were: play with the dog, which highlights handler control of the dog, and does not include play fighting. Road walk – the ability to walk along pavement, execute a turn, stop at the curb, observe the highway code, and proceed. There were distractions such as passing vehicles or bicycles, people, wheelchairs, trams, pushcarts, etc.
Well, it was bucketing rain on the night of the exam; nonetheless, out we went, the examiner pouncing on Fingo and I from the darkness, opening and closing a large umbrella behind us. That was scary for Fingo but he stayed with me and we passed. Rejoin the handler, stay in one place for two minutes, vehicle control, come away from distractions, controlled greetings, and food manners, which Fingo found very difficult. He has had food obsession since he was a puppy. Once whilst watching a member work food manner for Gold, Fingo pulled me off the bench and stole the examining dog's food from the bowl! Very embarrassing; fortunately, entertaining to the others. This test was difficult for him. We soon learnt, "Leave it," in a loud voice. He learnt and passed. Examination of the dog. The object is to demonstrate that the dog will allow inspection of its body by a stranger as might be undertaken by a veterinary surgeon. Responsibility and care. The object to test handler on various topics.
The Silver test was a week after my two-week period attending the World Congress and U.S. Specialty. During that time, all my five Ridgebacks were kennelled. Fingo and I worked hard twice a day before the test, and we passed.
All this training gave us a much better relationship. We could enjoy the countryside with more freedom; he was less likely to cause an accident. He is well mannered, a joy to own and a very happy dog to work with.
One of my greatest worries was that I'd let the dog down by failing the responsibility and care, questioned by the dog warden. My bedtime reading before the test was review. The facts are common sense and the law. I was concerned at being too nonchalant. We were questioned in a small side room by the dog warden.
I learnt the material "parrot fashion", but the questions and answers were fielded during conversation. I found this difficult, being unable to itemize the answers. I must have satisfied the examiner even if I wasn't word-perfect, and Fingo was paw-perfect! Gold wasn't going to be difficult. Fingo loved to learn and was really advanced in his exercises. He even participated with the level three higher dogs who had passed Gold. Scent discrimination, retrieve, return and drop, distance control of stand, sit, and down.
Description of exercise in brief included road walk, return to handler's side, walk free beside handler, stay down in one place, send to bed, he loved. At feed time Fingo always waits on a kitchen mat whilst I prepare the food. I placed an old, cut-up blanket on the mat; this was his bed. We took the blanket to classes and when it was placed on the other end of the hall, I said, "Bed". He went directly to the blanket. He was a star. The others found this difficult and some even failed this exercise. Food manners were again of concern. Whilst at the World Congress, I asked a behaviourist for help. I tried one method which did not work, so I worked on recommended hand feeding. It takes time, but I still feed Fingo this way. An old plastic apron is placed on the doorway separating us from the other feeding Ridgebacks. He only takes it from my hand when I say, "Okay". This could be why I have such a dog whose desire is to please me. We passed the test. Stop the dog was very difficult. Fingo comes in so fast. We walked high hills where we practiced stop on recall. I even go otitis media from shouting, "Down" at altitude. Sometimes he stopped; other times he came slowly crawling, one foot at a time.
The test date was cancelled several times due to the hall being booked for Christmas plays, the secretary forgetting to rebook, the examiner's partner having a baby, and the severe weather conditions in January. Remembering that everyone is a volunteer to organise events was borne in mind. I had one week to "stop the dog". The object is for the handler to stop the dog at a distance in an emergency situation.
My response to Fingo was to back up a few steps on exercise, and make each steps successful, keeping the sessions short and happy, and practicing with patience and praise. We made the deadline, February 5, 2005, and we passed the exercise!
Relaxed isolation and food manners we had mastered; examination of the dog was more complex than the Silver and responsibility and care. Fingo passed – paw perfect, Gold.
One incident I wish to mention: During an off-lead exercise, preparing for Silver, two small dogs of terrier breeds broke ranks and an altercation was about to be established. Fingo left my side to investigate. My emergency signal was put to the test. I have trained my Ridgebacks to "come" from a distance, on the Conrad Lorenz theory – they would be rewarded with food on return. The whistle which is carried on a cord around my neck at all times was blown. Without hesitation, Fingo returned to my side. The trainer asked, "Who blew the whistle?" Everyone was motionless, Fingo at my side. "Does it work"? She asked. The answer was before her eyes!
The Rhodesian Ridgeback Quarterly – Fall 2005
www.hoflin.com.